SOURCE: CGCINT GHANA
On December 21, 2010, a grand ceremony was held to hand over the Ghana comprehensive hospital. The transfer ceremony was attended by Gong Jianzhong, Chinese ambassador to Ghana, Hu Yujie, counselor of the Chinese embassy, Ghana vice-president John DramaniMahama, Ghana health minister Benjamin Kunbuor, Ghana youth and sport vice-minister NiiNorteyDua, the big Akela governor NiiArmahAshiety, and local officials and congress members. Over 800 local people gathered at the square in front of the hospital, celebrating the completion and transfer of the China-aided hospital.

Ambassador Gong delivered an enthusiastic speech at the transfer ceremony. He said that medical service is a pillar of economic and social progress in a country. To support the Ghana government to provide quality health service to the people, the Chinese government offers free-aid payments helping Ghana to construct the comprehensive hospital of 100 sick beds. China and Ghana are close friends and trustworthy partners. China and Ghana have profound friendship and will enhance cooperation in the medical and health sector. Since 2006, the Chinese government has supplied antimalarials to Ghana each year. About 30 Ghana doctors receive professional trainings in China annually. An 11-member Chinese medical team is offering medical service in Ghana. Ambassador Gong hoped that the China-aided hospital may be a symbol, along with the national theatre and Buwei hydropower station, of friendship of the two countries.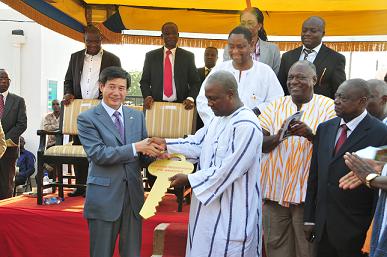 Vice-president John DramaniMahama said that the western district of Akela city has been short of sound medical facilities. Ghana started to construct the comprehensive hospital one year ago with China free aids. During the period, China Geo-Engineering Corporation International Ltd. (CGC), the hospital constructor, earnestly fulfilled contract obligations, and efficiently completed the project. The hospital was finally built to the benefit of one million people in the country. He believed local residents would receive better medical service in the hospital. He thanked the Chinese government to aid the Ghana people and hoped the hospital runners to keep it as a sample hospital of the country.

Ghana health minister Benjamin Kunbuor said he was glad to attend the completion ceremony. One year ago, he witnessed the groundbreaking ceremony of the hospital as a vice-minister. He said the hospital, containing traditional Chinese medicine service and anti-malaria center, is a model of integrating traditional and modern medicines. The traditional Chinese medicine is very mature, and applicable in Ghana, wreaked by malaria. He urged the hospital runners to start work early and ensure efficiency and rational application of the medical service resources.

Ghana local dances and dramas were performed at the transfer ceremony, cheered by audiences on the site.