SOURCE: CGCINT MAURITANIA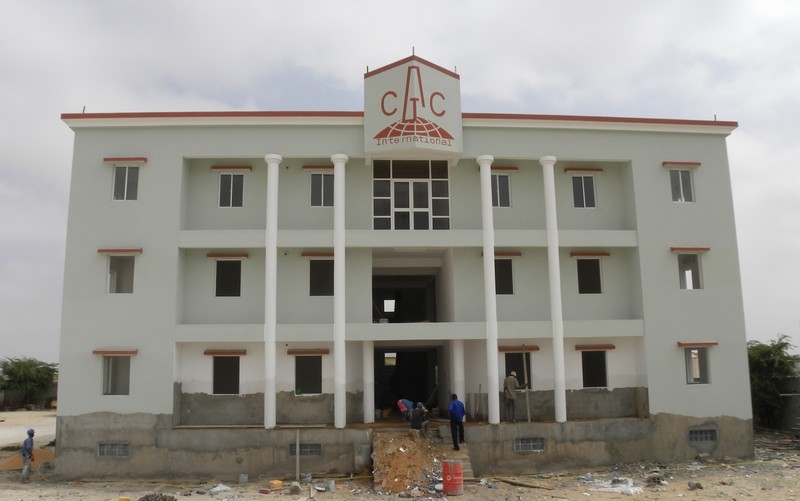 The campsite of the Mauritania project department of China Geo-Engineering Corporation International Ltd. (CGC) has been nearly finished in construction. The fences, warehouse, repair workshop and kitchen have been ready and put into operation. The multiple-purpose building is under fitment and will come into service in August when the handrails, windows and doors and installed.

The campsite is located in the outskirts of Nouakchott, the capital city of Mauritania. It is 11 kilometers away from the downtown areas, five kilometers from the Friendship Port, and adjacent to the national No.2 highway, with convenient traffic conditions. The campsite occupies a land of 8,000 square meters. It comprises, from the south to the north, the multi-purpose building, basketball court, warehouse, repair workshop, and parking lot. Trees are planted between the basketball court and warehouse to separate the site into the work area and living quarters. The multi-purpose building, tall, spacious and bright, has a floor area of 1,200 square meters, including four floors basements. The basements are applied to store materials. The first floor of the building has eight office rooms. The second and third floors contain 18 rooms as staff dormitories. They are equipped with balconies and sports and recreational rooms. At the roof the building, people may watch the downtown areas of the capital city in the north, the AFOUT water works in the south, the vast Atlantic Ocean in the west, and boundless deserts in the east.

The new campsite, with complete facilities and comfortable environments, will improve the working and living conditions of the staff workers. It will furnish spaces to store construction materials, park and repair machines. It supplies perfect logistics support to the construction site, and creates favorable conditions to complete the project smoothly.