SOURCE: CGCINT CHAD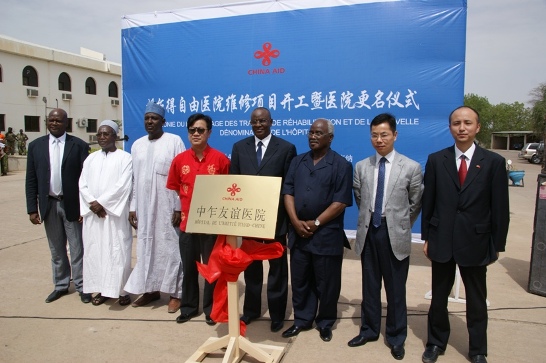 On April 29, a ceremony was held at the Freedom Hospital of Chad, starting up the China-aided hospital maintenance project and renaming the hospital. The ceremony was attended by over 100 persons, including Yang Guangyu, Chinese ambassador to Chad, Muhammad·Mahamad·Ardai, state secretary of the health ministry, governor of the Ndjamena district, Qian Jin, political counselor of the Chinese embassy, Zheng Wei, commercial counselor of the Chinese embassy, officials of Chad health ministry, doctors and nurses of the hospital, representatives of international organizations, and members of Chinese medical team and project construction unit.

At the ceremony, ambassador Yang and state secretary Ardai delivered enthusiastic speeches. They spoke highly of cooperation of China and Chad in all fields, particularly in the medical and health service sector. They expected the project to be completed soon so as to serve the Chad people. The two parties also congratulated the hospital renamed into China-Chad Friendship Hospital, saying it fully materialized the profound friendly cooperation of the two countries. Ambassador Yang and state secretary Ardai jointly unveiled the name plate of the hospital. The activity was covered by local mainstream media, including the Chad television station.

Chad Freedom Hospital was constructed with Chinese government aids in 1996. In 2010, the Chinese government agreed to repair and upgrade the hospital, and build a dormitory for the Chinese medical team. Chad President Debi was very concerned with the project, and approved to rename it into China-Chad Friendship Hospital.